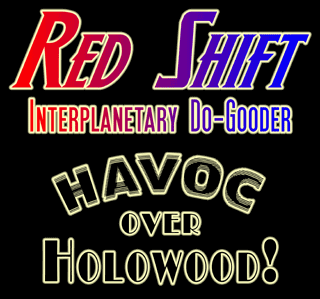 IT'S GO TIME! THE POST-MERIDIAN RADIO PLAYERS return to Boston's largest sci-fi convention with another live episode of their original sci-fi comedy, which both parodies and pays homage to the pulp sci-fi serials of the 1930s and 40s. Join Red, Lumpy, Doc Alberts and Penny Parker, Girl Reporter as they try to save a beloved space celebrity from his worst nightmare: angry fans with atomic weaponry!
---
(Be sure to hang around for a live performance of a specially-written episode of the Parsec Award-nominated fantasy podcast,
Second Shift
, performed by members of the series' cast, followed by a panel discussion and Q&A session on Audio Theater production in New England!)
---
Performance Dates
Sunday, January 20th, beginning at 2:00 PM
---
Location
Arisia '08

Hyatt Regency Cambridge

President's Ballroom D

Cambridge, MA
---
Cast
Red Shift
....
Michael McAfee
Lumpy
....
Josh Nicholson
Penny Parker
....
Renée Johnson
Dr. Alberts
....
Rob Noyes
Narrator
....
Gilly Rosenthol
JetPack Jones/
Arthur Cogznowski
....
Michael Simon
Femme Fatalia/
Henrietta Nilconk
....
Juliet Bowler
Tour Guide
....
Joye Thaller
Spetacosians
....
Mare Freed
Julia Lunetta
Brian Rust
Christian Sterling
Director
....
Rob Noyes
Producer
....
Renée Johnson
Technical Director/
Sound Designer
....
Neil Marsh
Creator/Head Writer
....
Rob Noyes
Writing Team
....
Pete Goodrich
Michael McAfee
Brian Rust
---
Program

4 pages | 163k
Recordings


Audio is on the "Havoc Over Holowood!" page on our old web site.
---
Photos
Coming soon...