May 11th & 12th, 2012
---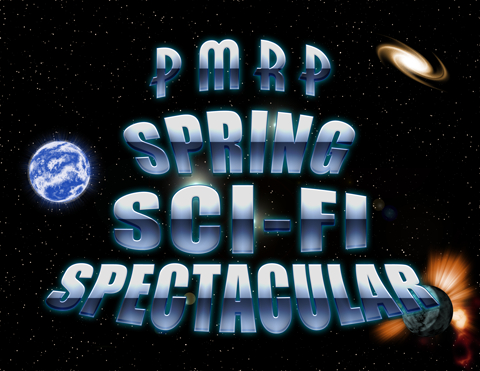 Following on the success of last year's performance of Doctor Who and the Starship of Madness, THE POST-MERIDIAN RADIO PLAYERS are putting on a bigger, bolder spring production this year!
---
Featuring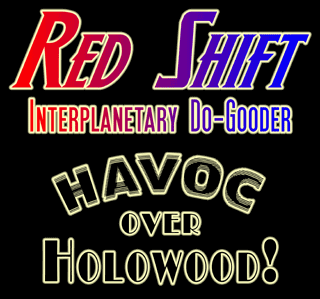 It's Go Time!
THE POST-MERIDIAN RADIO PLAYERS kick off their first Spring Sci-Fi Spectacular with one of their most popular shows!
Originally performed at Arisia '08, this episode of our sci-fi comedy, Red Shift: Interplanetary Do-Gooder, which both parodies and pays homage to the pulp sci-fi serials of the 1930s and '40s (with a bit of the '50s thrown in for good measure!), follows Red, Lumpy, Doc Alberts and Penny Parker, Girl Reporter as they try to save beloved space celebrity Jetpack Jones from his worst nightmare: angry fans with atomic weaponry!
Presented in PMRP Radio-Vision.
Red Shift: Interplanetary Do-Gooder

Writer/director Rob Noyes' vision of the World of Tomorrow. Not the bleak, post-nuclear wasteland or industrial urban dystopia of 1980s science-fiction, but the clean, modernist utopia imagined by the 1939 World's Fair: a future which, through industry and hard work, promised to be streamlined, prosperous and bright; and beyond it lay the Cosmos, just waiting for exploration and colonization. Red Shift and Lumpy lived in just this kind of Universe, and Dr. Alberts and Penny Parker were keen to travel there. It turned out, however, to be just slightly off-center from what they were expecting.
---
Cast
Red Shift
.....
Michael McAfee
Lumpy
.....
Chris Chiampa
Dr. Alberts
.....
Rob Noyes
Penny Parker
.....
Renée Johnson
Narrator
.....
Tom Russell
with
Jetpack Jones/
Arthur Cogznowski
.....
James Scheffler
Brian Edgar (matinee only)
Femme Fatalia/
Henrietta Nilconk
.....
Juliet Bowler
Tour Guide
.....
Joye Thaller
Kaj Regnor
.....
Christian Sterling Hegg
Yot Gimpet
.....
Julia Lunetta
Jit Farfod
.....
Liz Adams
Nin Huppin
.....
Mare Freed
Mother
.....
Juliet Bowler
Susie 495
.....
Mare Freed
Production Team
Director
.....
Rob Noyes
Creator/Head Writer
.....
Rob Noyes
Sound Designer
.....
Neil Marsh
Asst. Sound Designer
.....
Allison Schneider
Writing Team
.....
Pete Goodrich
Michael McAfee
Brian Rust
Tech Director
.....
Chris Cebelenski
Stage Manager
.....
Heather Tucker
Producer/
House Manager
.....
Chris DeKalb
---
and
---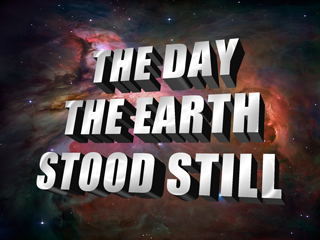 Gort, Klaatu Barada Nikto!
From the long-running Lux Radio Theater comes this adaptation of the classic 1951 science-fiction film. Originally airing on January 4th, 1954, this production featured Michael Rennie reprising his performance of Klaatu. Lux Radio Theater was famous for producing radio adaptations of major motion pictures, often with the original lead actors.
This adaptation of Edmund H. North's original film script was written by Milton Geiger. The film script itself was based on the Harry Bates short story "Farewell to the Master".
---
Cast
Klaatu
.....
John Hodges
Helen Benson
.....
Karen Sarao
Bobby Benson
.....
Richard Bartlett (evening)
Jeremy Holstein (matinee)
Tom Stevens
.....
James Scheffler (evening)
Brian Edgar (matinee)
Mrs. Crockett
.....
Renni Boy (evening)
Liz Adams (matinee)
Prof. Barnhardt
.....
Daniel Dolinov
Narrator
.....
Jacob Sommer
with
Harley
.....
Jacob Sommer
Hilda
.....
Liz Salazar
Agent Brady
.....
Jeremy Holstein (evening)
Chris Chiampa (matinee)
General Cutler
.....
Jeremy Holstein
Colonel Ryder
.....
Chris Chiampa
British Radar Officers
.....
Liz Adams
Renni Boy (evening)
Caitlin Mason (matinee)
American Radar Officer
.....
Liz Salazar
News Reporter
.....
Caitlin Mason
Soldier
.....
Jeremy Holstein
Military Officer
.....
Chris Chiampa
Radio News Announcer
.....
Caitlin Mason
Military Radio Announcer
.....
Jacob Sommer
Secretary
.....
Liz Adams
Police Officer
.....
Daniel Dolinov
Production Team
Director
.....
Michael McAfee
Asst. Director
.....
Mary Ferrara
Sound Designer
.....
Neil Marsh
Asst. Sound Designer
.....
Allison Schneider
Tech Director
.....
Chris Cebelenski
Stage Manager
.....
Heather Tucker
Producer/
House Manager
.....
Chris DeKalb
---
Performance Dates
Friday, May 11th, 2012 @ 8pm
Saturday, May 12th, 2012 @ 2pm(matinee)
Saturday, May 12th, 2012 @ 8pm
---
LOCATION