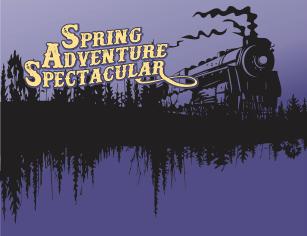 Performances:
March 19, 20, 21, 27, and 28, 2015 at
Responsible Grace Church, 204 Elm Street, Somerville
.
(Performances are at 8pm each evening; there will be both a 2pm matinée and an 8pm evening performance on the 28th.)
You can buy a copy of this performance from our Bandcamp storefront!
---
The Post-Meridian Radio Players

are bringing two exciting classic tales of adventure to the stage this spring as part of our Spring Adventure Spectacular.
Featuring
The Mysterious Traveler
Original story by Maurice Leblanc with additional material from the works of Sir Arthur Conan Doyle.
Adapted and Directed by Christopher Chiampa
"France, 1892. What should be a quiet train journey to Rouen for a retired military officer and an American gentlewoman on holiday is interrupted by a strange man of dubious origin. His presence there is soon shown to not be a coincidence. What plans does this mysterious traveler have for his fellow passengers, and what connection does he have with Arsène Lupin, the infamous gentleman-thief?"
The Gentleman
.....
Michael Lin
The Woman
.....
Austen Wright
The Thief
.....
Joev Dubach
Foley Artists
.....
Dave Barker
Naomi Hinchen
The Scarlet Pimpernel
Based on The Scarlet Pimpernel, created by Baroness Emma Orczy
Adapted and directed by Elizabeth Salazar
"During the Reign of Terror, a mysterious Englishman has been saving French aristocrats condemned to the guillotine. With her brother's life in the balance, Marguerite St. Just must become an unwilling spy to help uncover the identity of the Scarlet Pimpernel. But when Marguerite discovers that someone near and dear to her heart is the elusive Pimpernel, she must risk everything to come to his rescue before Citizen Chauvelin's net can encircle him!"
Marguerite St. Just
.....
Kristen Heider
Sir Percy Blakeney
.....
Justus Perry
Citizen Chauvelin
.....
Martha Putnam Sites
Sir Andrew Ffoulkes
.....
Eric Cheung
Suzanne de Tournay
.....
Jackie Freyman
Desgas
.....
Jeremy Holstein
Brogard
a Courier
.....
Lori-Anne Cohen
the Comtesse de Tournay
Guard 2
Sergeant
.....
Catherine Bromberg
Armand St. Just
Frances
the Prince of Wales
.....
Lucas Commons-Miller
Lord Grenville
Guard 1
the Comte de Tournay
.....
Tom Champion
Lady Portarles
Louise
a Boy
.....
Jessica Conger
Foley Artists
.....
Michael Lin
Austen Wright
Crew
| | | |
| --- | --- | --- |
| Producer/House Manager | ..... | Chris DeKalb |
| Artistic Director | ..... | Caitlin Mason |
| Stage Manager | ..... | Jacob Marino |
| Sound Designer | ..... | Brad Smith |
| Sound Team | ..... | Jay Sekora, Joev Dubach, Eric Cheung |
| Publicity | ..... | Amanda Greenslet |
| Costumes | ..... | Circe Rowan |
| Graphic Designer | ..... | Jenn Spinelli |
Download or view cast and crew bios
As mentioned in your program, cast and crew bios are available on the SAS15 bios page.
---
Performance Dates
Thursday, March 19, 2015, at 8:00pm
Friday, March 20, 2015, at 8:00pm
Saturday, March 21, 2015, at 8:00pm
Friday, March 27, 2015, at 8:00pm
Saturday, March 28, 2015, at 2:00pm (matinée)
Saturday, March 28, 2015, at 8:00pm
On our Tickets page you can make a reservation to pay at the door, or buy tickets in advance.
---
Location
Responsible Grace
204 Elm Street
Somerville, MA

View Responsible Grace on a larger map