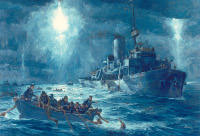 The Four Chaplains is a historical drama representing the real-life sinking of the USAT Dorcester during World War II. After being struck by a torpedo, four chaplains that were on board helped evacuate the ship eventually giving their lives to save others.
PMRP is proud to present their story of cooperation, empathy and sacrifice.
The Four Chaplains
Written by Chris Lockheardt
Directed by Michael Haddad
Produced by Chris DeKalb
Post-Production by Jeff Robinson
Rev George Fox
.....
Tom Russel
Rev Clark Poling
.....
Jeremy Holstein
Father John Washington
.....
Eric Cheung
Rabbi Alexander Goode
.....
Jared Hite
Rev Daniel Poling
Commandant
Radio Broadcaster
.....
Tom Champion
Szymezak
.....
Rachel Goggin
McAtamney
.....
Dave Barker
Rev Murphy
.....
Francis Hauert
Captain Danielson
.....
Joev Dubach
Warish
.....
Kathleen Lewis
Mother Goode
.....
Nora Sotomayor
Wyatt Fox
Ensemble
.....
Jackie Freyman
Boy
.....
Kitty Drexel
Krecker
.....
Sara Dion
Ensemble
.....
Daniel Maltzman
Narrator
.....
Mike Haddad
For more information about the real life incident please visit Wikipedia's page on The Four Chaplains.
This project was funded in part by a grant from Eastern Bank.