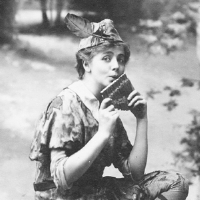 The Post-Meridian Radio Players are proud to present an original full-length adaptation of J. M. Barrie's beloved tale of Peter Pan! The bedtime story of all bedtime stories, the beloved tale of the boy who won't grow up and the girl who decides she must. The Darling children, Wendy, John, and Michael, are whisked away to Neverland, a place of freedom and wonderment menaced by the ever-looming danger of the pirates and their cunning leader, Captain James Hook. Will the Darlings ever see their parents again? Will Pan the Avenger triumph at last over Hook? And most importantly — do you believe in fairies?
See our Auditions page to learn how you can be a part of the show!
We present an original adaptation of the J. M. Barrie novel by Michael Lin, directed by Jess Viator.
Featuring
Miranda Reilly
.....
Peter Pan
Jackie Freyman
.....
Tinker Bell
Jessica Conger-Henry
.....
Wendy Darling/Jane
Emma Joyce
.....
John Darling
Amelia Haas
.....
Michael Darling
Catherine Bromberg
.....
Adult Wendy
Amy Bennett-Zendzian
.....
Adult Wendy (Understudy)
James Scheffler
.....
Mr. Darling/Captain James Hook
Nellie Farrington
.....
Mrs. Darling/Smee
Naomi Ibasitas
.....
Tiger Lily
Anna Catherine Muench
.....
Tootles
Keenan Sunderwirth
.....
Nibs
Jessica Cashin
.....
Slightly
Jeremy Holstein
.....
Bill Jukes
Daniel Joseph Burke
.....
Starkey
Dave Barker
Naomi Hinchen
.....
Foley Team
Crew
| | | |
| --- | --- | --- |
| Chris DeKalb | ..... | Producer |
| Meg Wickham | ..... | Stage Manager |
| Jaclyn Wilson | ..... | Publicity Director |
| Grace Gist | ..... | Sound Designer |
| Jay Sekora | ..... | Sound Engineer |
| Mare Freed | ..... | Sound Board Op |
Dates and Prices
Peter Pan will be performed on the following dates:
Friday, April 21, at 8pm
Saturday, April 22, at 2pm (family-friendly matinée!)
Saturday, April 22, at 8pm
Thursday, April 27, at 8pm (pay-what-you-can night!)
Friday, April 28, at 8pm
Saturday, April 29, at 2pm (family-friendly matinée!)
Saturday, April 29, at 8pm
Tickets are $15 for adults, $12 for students/seniors and $6 for kids 12 and under. You can make a reservation or purchase tickets in advance on our Tickets page; space permitting tickets may also be purchased at the door.
Location
Responsible Grace
204 Elm Street
Somerville, MA
View Responsible Grace on a larger map