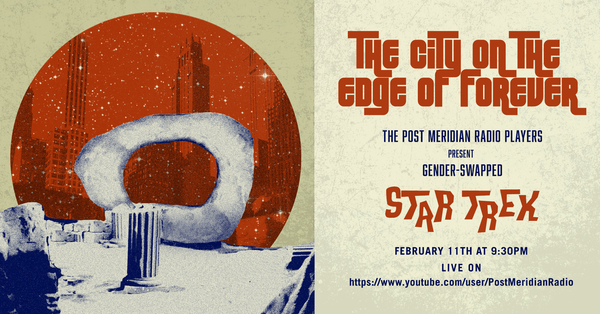 On Friday, February 11, 2022 at 9:30pm, we will perform our gender-swapped adaptation of the classic Star Trek episode "City on the Edge of Forever" over Zoom. In this episode, originally written by sci-fi icon Harlan Ellison, Captain Jane T. Kirk and Ms. Spock must follow a delirious Dr. McCoy into the 1930s before she can alter the course of history. Will Kirk make the necessary sacrifice to save the past and secure the future?
We'll be streaming this LIVE at 9:30pm at this link on PMRP's YouTube channel! We hope you can join us!
---
Performance
Friday, February 11, 2022, @ 9:30pm
The performance will stream at https://youtu.be/h2e3XT7rb24 or you can find us via PMRP's YouTube channel.
Credits
Directed and Adapted by Elizabeth Salazar
Original teleplay by Harlan Ellison
Produced by Caitlin Mason and Karen Sarao
and featuring
Captain Jane T. Kirk
.....
Karen Sarao
Ms. Spock
.....
Adria Kyne
Doctor McCoy
.....
Catherine Bromberg
Lieutenant Uhura
.....
Michael Lewis
Ensign Chekov
Ensemble
.....
Caitlin Mason
Guardian
Ensemble
.....
Lisa San Pascual
Edwin Keeler
.....
Justus Perry
Foley Artist
.....
Michael Lin
Sound Design
.....
Brad Smith
Kristen Heider
Kyle Lampe
with special assistance by
.....
Mistress Carrie
at Big Foot First Productions
Costumes
.....
E. Rosser
Stage Management
.....
the Honorable Rose Martin
House Management
.....
Pat Carroll
Art
.....
Brian Azer