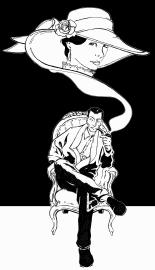 Performances:
July 14, 15, 20, 21, and 22, 2017
(8pm performances on all dates, plus a 2pm matinée on Saturday the 15th)
Thursday the 20th is a pay-what-you-can performance.
---
The Post-Meridian Radio Players
are proud to present their seventh annual Summer Radio program with adaptations for radio drama of Arthur Conan Doyle's Sherlock Holmes tale "A Scandal in Bohemia" and a gender-swapped version of Edgar Allan Poe's "The Murders in the Rue Morgue", considered by some the first modern detective story.
Our detectives will work out these puzzles for your pleasure on the stage of Responsible Grace Church in Somerville for six performances!
---
Cast
---
Your Hosts for the Evening
Martha Putnam Sites and Catherine Bromberg
---
The Murders in the Rue Morgue
Adapted by Phoebe Roberts and Jeremy Holstein from the original Edgar Allan Poe story
Directed by Phoebe Roberts
Dupin
.....
Srin Chakravorty
Edelle
.....
Kitty Drexel
Henri
.....
Michael McAfee
Ganimard
.....
Eric Cheung
Muset
.....
Shari Caplan
Bird
.....
Cari Keebaugh
Alberta
.....
Liz Salazar
Odenheimer
.....
Joev Dubach
Foley Artists
.....
Grace Gist
Jaclyn Wilson
---
Sherlock Holmes


in


A Scandal in Bohemia

Adapted by Jeremy Holstein from the original Arthur Conan Doyle story
Directed by Jeremy Holstein
Sherlock Holmes
.....
Andrew Harrington
Dr. Watson
.....
Chris Chiampa
Bohemian
.....
Dan Burke
Irene Adler
.....
Kristen Heider
Servant/Mrs. Turner
.....
Kate Mahoney
Godfrey/Ostler
.....
William Spreadbury
Driver
.....
Joev Dubach
Ruffians
.....
Liz Salazar
Michael McAfee
Cari Keebaugh
Priest
.....
Eric Cheung
Foley Artist
.....
Jane Ko
Liberty McClead
Crew

| | | |
| --- | --- | --- |
| Producer | ..... | Chris DeKalb |
| Stage Manager | ..... | Meg Wickham |
| Graphics/Sound Design Team | ..... | Jeremy Holstein |
| Sound Design Team | ..... | Kristen Heider |
| Sound Design Team | ..... | Grace Gist |
| Sound Engineer | ..... | Chris Cebelenski |
| Sound Board Op | ..... | Jaime Lin |
| Publicity | ..... | Jaclyn Wilson |
| Foley Coordinator | ..... | Dave Barker |
Performance Dates
Friday, July 14, 2017 at 8:00pm
Saturday, July 15 at 2:00pm (matinée) and 8:00pm
 
Thursday, July 20, 2017 at 8:00pm (pay-what-you-can)
Friday, July 21, 2017 at 8:00pm
Saturday, July 22, 2017 at 8:00pm
---
Location
Responsible Grace
204 Elm Street
Somerville, MA

View Responsible Grace in a larger map
---