KHAAAAAAAAAN!
Actress-turned-Director Mindy Klenoff ("The Do-Nothing Detective") is again presenting a gender-swapped interpretation of a classic Star Trek episode. This time she's showing us a new perspective on "Space Seed", the episode that introduced the genetically engineered superman superwoman Khan.
The show will be performed at the Arisia Sci-Fi convention (www.arisia.org) in January over MLK weekend. See below for more information (including cast and venue details).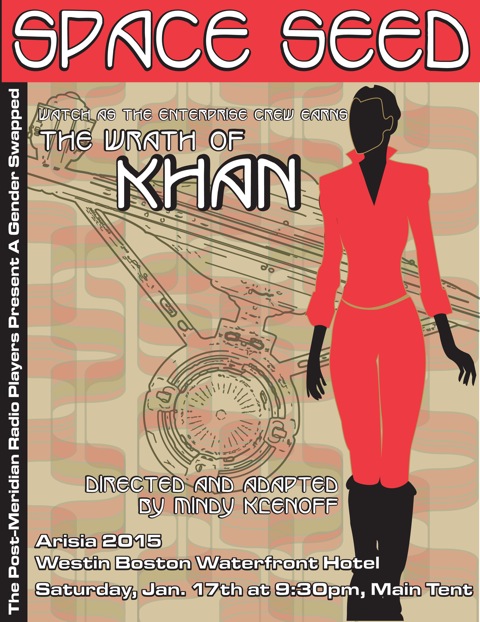 ---
Featuring
Cast
Capt. Jane Kirk
.....
Karen Sarao
Khan
.....
Liz Salazar
Ms. Spock
.....
Adria Kyne
Ms. Scott
.....
Sarah Brinks
Dr. McCoy
.....
Liberty Moody
Ens. Chekov
.....
Caitlin Mason
Lt. Uhura
.....
Michael Lewis
Lt. McGivers
.....
Andy Hicks
Joaqina
ensemble
.....
Rosalind Martin
Production Team
Original Script
.....
Gene L. Coon
Carey Wilber
Director
.....
Mindy Klenoff
Sound Designer/Foley
.....
Brad Smith
Producer
.....
Caitlin Mason
House Manager
.....
Chris DeKalb
---
Performance Date
MLK Day Weekend — January 2015
(Watch this space for the exact date and time.)
---
Admission
Attendance is free with a paid Arisia '15 registration.
---
Location
Arisia '15
Westin Boston Waterfront Hotel
Boston, MA