Tomes of Terror III
---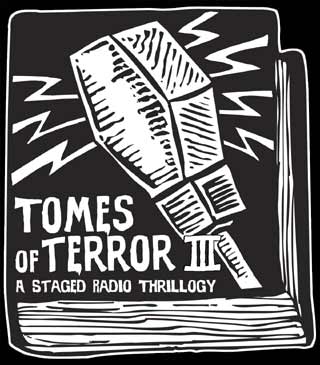 THERE'S ONE DUE DATE YOU CAN NEVER ESCAPE!
Once again, THE POST-MERIDIAN RADIO PLAYERS will bring you laughs, thrills and chills for Halloween with their annual LIVE "staged radio thrillogy", Tomes of Terror!
Come see radio drama performed the way it was back in the 1930's, 40's & 50's: with actors on microphones and a live Foley team creating sound effects, often with with unexpected, everyday objects.

---
Featuring
The Baby Snooks Show: An evening of trick-or-treating turns intoa hilarious night of disasters, as Daddy tries to one-up the father of Snooks' friend, Roger. Of course, things never go as smoothly as Daddy plans, and events escalate into an all-out prank war!
The 1946 Halloween episode of the classic Golden Age comedy that originally starred Fanny Brice. Written by Philip Rapp.
Reynardine: In a small English village, tempers flare over a Prophecy that a terrible fate will befall the village if a fox is killed during the annual Hunt.  What does Alice know?  Why does she fear the return of her lover, gone now these five years? And what part does the mysterious were-fox play in it all?
Adapted by our own Renée Johnson from Athan Y. Chilton's short story The Ballad of Reynardine, which was based on modern interpretations of the popular English ballad "The Mountains High".
The Tell-Tale Heart: In Edgar Allan Poe's chilling tale of methodical murder, a man calmly narrates his cold-blooded killing of a prominent farmer in a small community. His carefully planned disposal of the evidence goes unnoticed by even the police, until the evidence itself comes back to haunt him...
Adapted for CBC Radio's Nightfall supernatural-horror anthology series by Len Peterson in 1980.
WARNING:
This production of "The Tell-Tale Heart" contains
brief incidents of graphic audio violence
and may not be suitable for younger attendees.
---
Performance Dates
Wednesday, October 29th, 2008 @ 7:30pm
Thursday, October 30th, 2008 @ 7:30pm
Friday, October 31st, 2008 @ 7:30pm
Saturday, November 1st, 2008 @ 7:30pm

---
Location
Unity Church of God
6 William Street
Somerville, MA 02144
(4 blocks up College Avenue from the Davis Square T-Station)
---
*

In Memoriam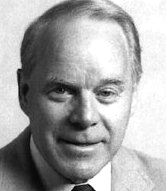 Leonard Byron Peterson
1917-2008
Our show this year is dedicated to the memory of Len Peterson, the Canadian playwright who granted us permission to perform some of his plays from CBC Radio's Nightfall, a supernatural- horror anthology series that ran in the early 1980s.  Mr. Peterson passed away on February 28th of this year, at the age of 90, leaving behind a legacy of award-winning radio dramas about many social issues which, when originally written, caused much controversy.
We at PMRP were saddened to hear of his passing, but are grateful to Mr. Peterson for allowing us to perform some of his works for a new audience.
There's an extensive article about Mr. Peterson and his writing career on the Toronto Globe and Mail website.
---
Cast & Crew

Host Segments
| | | |
| --- | --- | --- |
| The Librarian | ..... | Renni Boy |
| Writer | ..... | Michael McAfee |

The Baby Snooks Show
The 1946 Halloween Episode
by Philip Rapp
Originally produced and directed by Philip Rapp
Licensed by agreement with Paul Rapp of www.bickersons.com
Announcer/
Mr. Wilcox
.....
Nick Zendzian
Snooks
.....
Kristen Bays
Mommy
.....
Delilah Webb
Daddy
.....
Tom Champion
Phoebe
.....
Melanie Arzt
Roger
.....
Christine Liu
Mr. Hopkins
.....
Michael Simon
The Insurance Doctor
.....
Matt McIrvin
Foley/FX Team
.....
Mare Freed (Captain)
Alissa Lerman
Gilly Rosenthol
Brian Rust
Musical Accompaniment
.....
Shu Yu Lin
Director
.....
Rob Noyes
Rehearsal Assistant
.....
Judy Yen


Image by Eric Elliot, used by permission
Reynardine
Based on The Ballad of Reynardine by Athan Y. Chilton
Adapted with Permission by Renée Johnson
Alice Reynolds
.....
Jennifer Cseh
Matthew Smythe
.....
Josh Nicholson
"Big" Tom Lloyd
.....
Andrew Winson
Margaret Lloyd
.....
Katherine Bryant
Squire Reynolds
.....
John Bowker
Geoffrey Reynolds
.....
James Scheffler
Marcel de Reynardine
.....
Nathaniel Gundy
Bastienne de Reynardine
.....
Natasha Collette
Silas Cooper
Steward
.....
Matt Kimmel
Foley/FX Team
.....
Shaunna Francis (Captain)
Amy Sonnanstine
Michael Dewberry
Musical Accompaniment
.....
Daniel "Rourkie" O'Rourke
Jay Nungesser
Brie Frame
Carolyn VanEseltine
Director
.....
Renée Johnson
Rehearsal Assistant
.....
BK DeLong

The Tell-Tale Heart
Based on the short story by Edgar Allan Poe
Adapted for Nightfall by Len Peterson
Originally produced by Bill Howell
Transcribed for PMRP by Alex Feinman
Narrator/Alfred Bane
.....
Jay Sekora
Whetherby
.....
Julia Lunetta
Officer 1
.....
Monty Lyons
Officer 2
.....
Brendan O'Toole
Foley/FX Team
.....
Mare Freed (Captain)
Angela Harrer
Sarah Richards
Original Music
.....
Andrew Hicks
of "The Pluto Tapes"
Director
.....
Ari Herbstman
---
Staff
Administration
Administrative Producer
.....
Renée Johnson
Administrative Production Assistant
.....
BK DeLong
House Manager
.....
Chris DeKalb
Publicity Coordinator
.....
Beckie Hunter
Advertising Team
.....
Heidi Clark
Sarah Richards
Graphic Designer
.....
Grace Liang
Photographers
.....
Steve Huff
BK DeLong
Shelley MacAskill
Neil Marsh
Technical Crew
Technical Producer
.....
Neil Marsh
Tecnichal Production Assistants
.....
Sarah Richards (Foley)
Alicia Goranson (Sound Design)
Stage Manager
.....
TBA
Sound Designer
.....
Neil Marsh
Foley/FX Coordinator
.....
Neil Marsh
Foley/FX Construction
.....
Ed Poznysz
Miscellanea
Tomes of Terror theme "Creep" &
transitional music "Theme 01"
.....
Kevin Hartnell
---
Media

  The Boston Globe

The Fear is All in Your Head

by Danielle Dreilinger
Article from October 26th, 2008.




The Boston Phoenix

Radio Active: Post-Meridian Players' "Tomes of Terror III"

BosPicks Section
Article from October 25th, 2008.




WBZ News Radio AM 1030

The Post-Meridian Radio Players


The Jordan Rich Show
Recording to be available soon.
---
Links