Tomes of Terror
---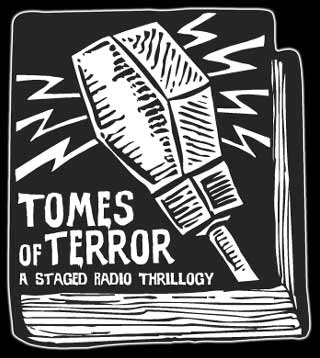 SHHHH!
THE POST-MERIDIAN RADIO PLAYERS present their first "staged radio thrillogy", Tomes of Terror!
Come see how the programs that entertained America for over 30 years were made. Actors with scripts in-hand and live sound effects artists will make you laugh, shiver and scream—all in good fun, though!
---
Featuring
Gildersleeve's Halloween Party: A wonderful episode of the classic Golden Age comedy series Fibber McGee & Molly from 1939, featuring the McGee's popular neighbor, Throckmorton P. Gildersleeve, and many of the regular characters from Wistful Vista.
The Maid's Bell:  An adaptation of one of Edith Wharton's best ghost stories, "The Lady Maid's Bell", written for CBC Radio's infamous Nightfall horror series in 1982 by playwright/actor/director John Douglas.
The Monkey's Paw:  Perhaps one of the greatest of the classic horror tales, "The Monkey's Paw" has rarely been rendered in audio format. Penned by W. W. Jacobs in 1902, this adaptation was written for Nightfall by Len Peterson, who has been called "Canada's most prolific and versatile playwright", in 1980.
---
Performance Dates
Monday, October 30th, 2006 @ 7:30pm
Tuesday, October 31st, 2006 @ 7:30pm
---
Location
First Congregational Church of Somerville
89 College Avenue
(4 blocks up from Davis Square T-Station)
---
Cast & Crew

Host Segments
| | | |
| --- | --- | --- |
| The Librarian | ..... | Renni Boy |
| Writer | ..... | Rob Noyes |

Fibber McGee & Molly:
"Gildy's Halloween Party"
by Don Quinn
Originally produced by Cecil Underwood
Transcribed for PMRP by Allli Poirot
Fibber McGee
.....
Rob Noyes
Molly McGee
.....
Shaunna Francis
Gildersleeve
.....
Michael McAfee
Mr. Wilcox / Announcer
.....
Matt Kimmel
Boomer
.....
Al Sten-Clanton
Old-Timer
.....
Tom Arena (Monday)
Michael McAfee (Tuesday)
Mrs. Uppington
.....
Masha Sten-Clanton
Teeny
.....
Mindy Klenoff
Foley/FX Artists
.....
Mare Freed
Heidi Clark
Director
.....
Brian Rust
Production Assistant
.....
Rob Noyes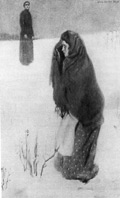 The Maid's Bell
Based on "The Lady Maid's Bell" by Edith Wharton
Adapted for Nightfall by John Douglas,
originally produced by William Lane
Transcribed for PMRP by Jamie Lawson
Alice Hartley
.....
Amy Lee Bennett
Agnes
.....
Jennifer Pelland
Laura Brymtpon
.....
Heidi Clark
Mr. Wace
.....
John Bowker
Mrs. Blinder
.....
Gilly Rosenthol
Mr. Brympton
.....
Michael McAfee
Mr. Ranford
.....
Nathaniel Gundy
Foley/FX Artists
.....
Mindy Klenoff
Alyssa Osiecki
Director
.....
Renée Johnson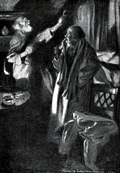 The Monkey's Paw
Based on the short story by W. W. Jacobs
Adapted for Nightfall by Len Peterson
originally produced by Bill Howell
Transcribed for PMRP by Joe Medina
Fred Todd
.....
Joshua Nicholson
Mrs. Todd
.....
Mare Freed
Herbert Todd
.....
Nathaniel Gundy
Sergeant-Major Morris
.....
John Bowker
Mr. Tilbury
.....
Rob Noyes
Foley/FX Artists
.....
Joye Thaller
Shaunna Francis
Director
.....
Neil Marsh
Production Assistant
.....
Nathaniel Gundy
---
Staff
Administration
| | | |
| --- | --- | --- |
| Producer | ..... | Neil Marsh |
| House Manager | ..... | Chris DeKalb |
| Publicist | ..... | Ari Herzog |
| Graphic Design | ..... | Gilly Rosenthol |
| Photographer | ..... | Jennifer Cseh |
Technical Crew
| | | |
| --- | --- | --- |
| Technical Producer | ..... | Neil Marsh |
| Stage Manager | ..... | Julia Lunetta |
| Lighting Design | ..... | Matt Kimmel |
| Sound Design | ..... | Neil Marsh |
| Foley/FX Liaison | ..... | Shaunna Francis |
Miscellanea
Tomes of Terror theme "Creep" &
transitional music "Theme 01"
.....
Kevin Hartnell
---
Program


16 pages | 1.5 MB
---
Photos

Shaunna Francis donning Molly's Amelia Earhart costume for Fibber McGee & Molly.
Photo by Jennifer Cseh


The cast of The Maid's Bell (L to R):  Nathaniel Gundy (Mr. Ranford), Amy Lee Bennett (Hartley), Heidi Clark (Mrs. Brympton), Michael McAfee (Mr. Brympton), Gilly Rosenthol (Mrs. Blinder), John Bowker (Mr. Wace), Jennifer Pelland (Agnes)
Photo by Jennifer Cseh


The cast of The Monkey's Paw (L to R):  Josh Nicholson (Mr. Todd), Mare Freed (Mrs. Todd), Nathaniel Gundy (Herbert Todd), Rob Noyes (Mr. Tilbury), John Bowker (Sgt. Major Morris)
Photo by Jennifer Cseh